Halloween Letter Writing Campaign & Kids Karnival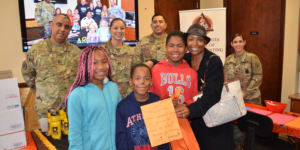 It's that time of year again! Our Halloween Letter Writing Campaign & Kids Karnival is back.
Every year after Halloween, Drs. Allen and Kelly Smudde open up their doors to the community with the same goal in mind – To buy back candy and give back to our local community, school, and armed forces. We are excited to share that our annual Halloween event is happening again for our 15th year! Join us Tuesday, November 1st for a Spooktacular afternoon. Meet local heroes, write letters to our troops overseas, participate in our Halloween-themed carnival and bring your leftover Halloween candy. Students k-12 are encouraged to bring their Halloween candy and will get $1 per pound of candy!
Letter Writing
This year, we are expanding our carnival games and letter writing to become even bigger than the previous years. Our main goal this year is to write letter for our troops who will be away this holiday season. In partnership with the amazing Operation Gratitude. When students come in to write their letters to our troops, or bring in any pre-written letters, they will also write which school they go too. Schools with the most letters written will win $500. Not only is this a heartwarming activity that students and troops will love and appreciate, By writing the most letters students can take part in benefiting their schools.
Along with the heartfelt letter writing, we will also have fun Halloween games for everyone to participate in. Students and our U.S Army Troop volunteers can play against each other in our entertaining carnival games and win enjoyable prizes. Everyone will have a chance to win prizes! The fun doesn't end there….We are also having an Instagram photo contest. We want to see photos of you in the Halloween spirit or photos of you with your letters. Don't forget to use #OGvalenciadentist and the users with the most hashtags will win $300!
We are so excited for this years Halloween Letter Writing Campaign and Kids Karnival. We encourage everyone to join us for this memorable event on Tuesday, November 1st from 3:00pm-6:00pm. Let's send some fun Halloween cheer to the women and men who are far from home. One small act of kindness can make a big impact on someone.
If you have any questions please call us at (661) 259-4474