Tips for a Healthy Halloween
]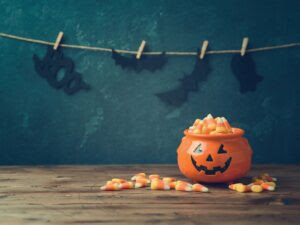 Halloween is the best time of the year for fun, tricks and most of all TREATS. It can be difficult to avoid the sweet temptations of Halloween candy. We can't escape it, they are everywhere! Boxes filled with chocolates as soon as you enter the grocery store or seeing the sour sweets on a tv commercial. We aren't saying to not eat candy during this spooky season, we are just providing some fun healthy tips to keep your smile BOO-tiful for this Halloween. A healthy Halloween is a happy Halloween.
Healthy Halloween – Eat a nice meal
Before we engage in our sweet satisfactions, it is important to eat a stable meal beforehand. This can help so we do not get a headache or stomach ache when we go straight to the sweets. This can also help limit our candy intake and keep you on track for a healthy halloween.
Minimum sweets
When eating candy it is important to note and limit what you put into your body. It's beneficial to avoid gummy and sour candies since the acidity can promote cavities. These candy's can easily erode your teeth due to the high acidity level. Also, it is important to avoid hard candy. If you have sensitive teeth, eating hard candy can easily irritate your teeth's enamel. We all feel risky when chewing on a hard piece of candy. Sticky candy can also stay in your mouth for a long period of time. The stickier the candy, the longer it will take for your saliva to wash it out of your mouth completely.
Brush, Brush, Brush
Brushing your teeth (Preferably twice a day) can help benefit your oral health a lot. Engaging in sugary treats should be a priority to brush those pearly whites. Flossing is equally as important to clean the areas in-between your teeth that your toothbrush cannot reach.
Stay Hydrated for a healthy Halloween
Staying hydrated is very important in general. Drinking water can help flush out any unwanted leftovers stuck in our teeth. Fluoride in water helps fight against cavities and tooth decay. Also, drinking water throughout the day is very important for your body.
Give away your Candy
Another benefit to having a healthy Halloween is giving your extra candy away. Don't know where to give it away? You're in luck because our Dental office is having a Halloween Letter Writing Campaign & Kids Karnival where you can give us your leftover Halloween candy and write letters to our heroes who are away during the Halloween season. You can also get $1 per pound of candy. In partnership with Operation Gratitude, your leftover candy and handwritten letters will go to troops overseas. This fun and memorable event not only benefits you and your smile, but so many people around you.
Oral health is very important but you should still have a great time and enjoy yourself. Feel free to contact our office if you have any questions. Have a happy & healthy Halloween!
–
–
–
Interested in Straightening your teeth and brightening your smile? Invisalign is the perfect solution. Book an appointment today for a free 3-minute consultation!