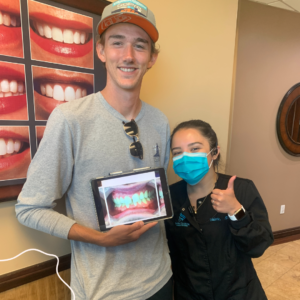 See what are patients have to say about us. We have videos and Google reviews. Putting a smile on our patients is just what we do best!
We understand that going to the dentist can be nerve-racking. That's why we always strive to give our patients the best experience. We want to ensure that you feel comfortable and and taken care of.
Some of our 5 star reviews on Yelp by our amazing patients! Click here to check out our Yelp page and share your experience at our Dental office! 
Below, you can see what our patients have to say about our dental office. Also, this is a great opportunity for you to share your experience at our office. Simply click this link to leave us a review.
Randy Dormans
March 31, 2022.
Pleasant, professional and efficient! In and out quick w/o feeling rushed.
claudia uitz
March 30, 2022.
Awesome staff! Best dentistry I been in Santa Clarita!
Sylvia Barton
March 30, 2022.
I love the staff and service, very professional and they make you feel important and comfortable! I highly recommend them 😃😁
Edward Shick
March 29, 2022.
Dr. Cho is outstanding, very patient and compassionate. Highly recommend!
Wayde Schatz
March 26, 2022.
Did a routine checkup and cleaning. Very friendly staff. Hygienist did very good job. Dr. Schatz is very friendly and gentle. I like this office.
Andrea Sheldon
March 25, 2022.
I have been going to Santa Clarita Dentistry for some time. They are always so nice and helpful. The hygienists are very thorough with cleaning your teeth and their dentists do an amazing job not to mention how gentle they are! So glad someone I worked with referred me,
Michelle Smart
March 23, 2022.
Outstanding office visit today day. Hygienist was so friendly, caring and taught me few things. Got to see Dr. Kelly too! I never doubt that Allen and Kelly hire the best people for their office!
Patient Testimonials - Videos
Testimonial from Cecilia on one of her recent visits.
On Veterans Day we love to give back to those who served for us. Here's a testimonial from Shane. Thank you for your service Shane!
Laura gives us a testimonial on her experience at our office.
Follow Us on Social Media