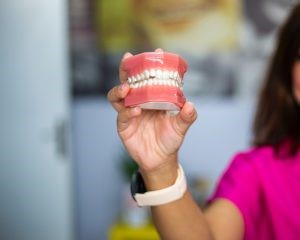 At Santa Clarita Advanced Dentistry we are denture professionals! In fact, Dr. Allen Smudde has been involved in the field since he was a young boy. It all started long ago in a galaxy far, far away. He calls this galaxy, the State of Indiana.
The Chosen One
It truly does feel like Dr. Allen Smudde is the chosen one. His father was a dentist and Dr. Allen started helping his dad at the young age of 9. He would help his father make dentures. He remembers the hours spent in his father's dental lab.
Being a young apprentice wasn't easy though. He also remembers looking out the window and seeing other boys his age play while he worked. While the other kids played outside, Dr. Allen was busy hand sculpting teeth out of wax. That's pretty impressive. As you can imagine, Dr. Allen is extremely skilled at his craft.
His father also hired a highly skilled lab technician. Dr. Allen Smudde spent hours during his childhood absorbing knowledge and skills from both his father and the lab tech.
You're in Good Hands
We can write about how great we are all day. But don't take our word for it, check out our patient testimonials.
If you need dentures and are lucky enough to be in the Santa Clarita area, do yourself a favor and come to Santa Clarita Advanced Dentistry. You will be hard-pressed to find a dentist as skilled as Dr. Allen Smudde.
Our Dentures are hand-crafted and have a 1-year warranty.
After earning his undergraduate degree at Humboldt State University, Dr. Smudde completed his Doctor of Dental Surgery degree at Northwestern University Dental School, followed by a residency at the Jesse Brown VA Medical Center. He is certified in oral sedation, oral implantology, and Invisalign® treatment.
Some of Our Denture Services
Complete Dentures
Partial Dentures
How Dentures Are Made
The following video is going to show you how dentures are made. The video has been edited so it looks like it's an easy and simple process, but it takes hours. Anyway, enjoy the video.
What Happens If I Don't Get Dentures?
If you opt to not get dentures, depending on how many teeth you are missing, chewing food will become complicated. If you continue to lose teeth, not only will you have a hard time eating certain foods, but your face will atrophy.
Think about the space your teeth take up in your mouth. When that space is no longer there, well here take a look at this video.
Custom Dentures Conclusion
If you need dentures, then gives us a call or stop by for a visit. If you want to know about the long and interesting history of dentures, then out this article. Hopefully, we were successful in providing you with some new and fun information.