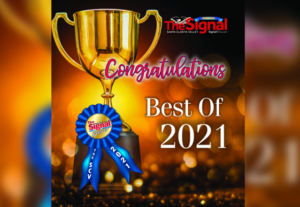 Don't just take our word for it! This year we were voted "Best Cosmetic Dentistry" by the residents of Santa Clarita. It was announced on SCV The Signal's website. We are so honored and proud to receive this award yet again. We've won this award every year for well over a Decade.
What makes us different? Well, we read the reviews that many of you have kindly left for us, and we think we figured it out!
Best Front Desk.
It all starts with our amazing front desk! The girls in the front make sure that our schedules run smoothly. They're the first friendly faces that you see when visiting our office. They are always happy to help you out!
Sometimes things come up and patients have to make last minute changes and our front desk is happy to try and accommodate you the best they can. The front desk happy to answer questions you may have.
They front desk is busy all day long, scheduling patients, answering phone calls, handling billing, and doing all kinds of work to make sure that our office is running smoothly. They make sure we earn the title of Best Cosmetic Dentistry in Santa Clarita.
Best Dental Assistants.
We are so proud of our Dental Assistants! Many of our Dental Assistants graduated out of our Dental Assisting School, Santa Clarita School of Dental Assisting. Without them our dentists and hygienists would not be able to do what they do.
During the school's 12-week program, many DA's find jobs. When we're looking for help in our practice we try and keep some of the best for ourselves. It's no wonder we're constantly voted as Santa Clarita's Best Cosmetic Dentistry. We have the city's finest Dental Assistants!
Not only have we won Best Cosmetic Dentistry in Santa Clarita for several years, but our school also wins awards for its excellence!
Best Dental Hygienists.
Reading the positive reviews you guys leave for us is awesome. And you guys make it clear how much you love our hygienists! We're so happy and grateful to have them and it always brings a smile to all our faces when you guys leave raving reviews for them!
It looks like it's all adding up. We have the best dentistry because we have the best dental assistants, the best front desk girls, the best hygienists but we're not done yet!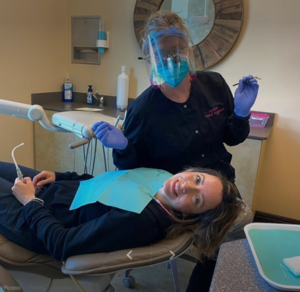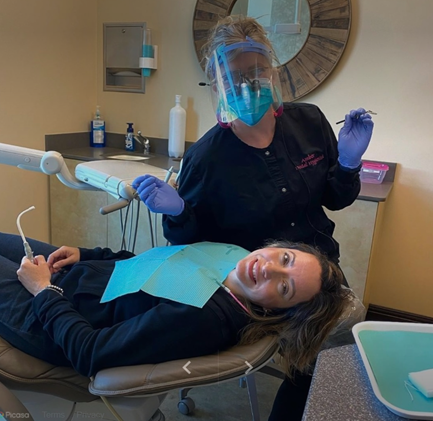 Best Cosmetic Dentistry in Santa Clarita: Dentists
They may be outnumbered in the office, but our Dentists are surely the best in Santa Clarita! We wouldn't have been able to build such a great practice without great Dentists. Especially DR's Allen & Kelly Smudde, they are the founders of this practice. Dr. Kelly Smudde is the founder of Santa Clarita School of Dental Assisting.
Together they have built a cohesive team. However, there is still one last ingredient to this recipe of success.
Best Cosmetic Dentistry in Santa Clarita: Patients
Lastly, we wouldn't be able to have a great practice if we didn't have great patients! After all it was thanks to your votes that we have been winning, Best Cosmetic Dentistry in Santa Clarita for over a decade straight!
You guys always leave us great reviews on Google, Yelp, and all over the internet. This helps spread the word about our practice. Not all reviews are good reviews, but we are happy to accept constructive criticism when we need to.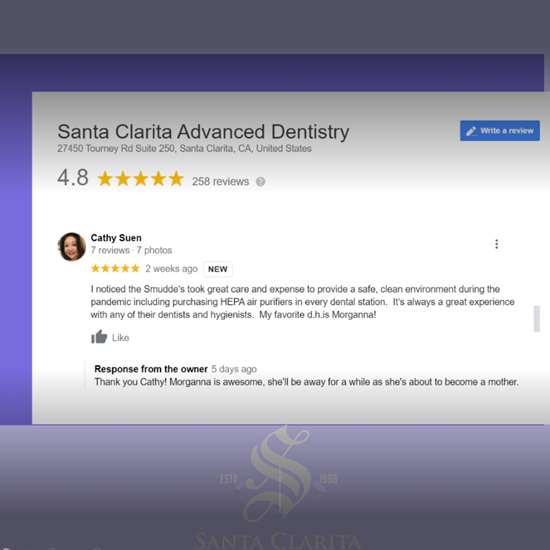 Our ability to learn from our mistakes and adapt is what helps us be great. Thank you all for your continued support. It is our greatest pleasure to serve the Santa Clarita Valley, you and your families, and the surrounding communities.