Invisalign In Santa Clarita Advanced Dentistry
Did you know that our practice is the number one General Dentistry Invisalign provider in Santa Clarita?
In the first few months of 2022, our practice was one of the top providers of Invisalign in North America. We were honored to become a Platinum Invisalign Provider. That's because patients like you not only trust us with their smile but are extremely happy with their results.

As a Platinum Invisalign Provider, we regularly receive discounts from Invisalign. We pass those savings on to you! We don't always have a lot of spots available for these special promotions and discounts, but it puts a smile on our face to know we can help some of you achieve the smile of your dreams!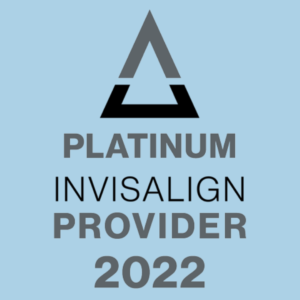 How Invisalign at Santa Clarita Advanced Dentistry Works
First, we need to know if you're a candidate for Invisalign. Unfortunately, not everyone is a candidate for Invisalign, but we have a simple way of finding out. One that is convenient for all parties involved.
You can schedule an online consultation with Dr. Kelly. Consultations are free and online. Most consultations are about 3-5 minutes long. During the consultation you can ask questions and Dr. Kelly will be able to see if you're candidate or not. All you need is a computer or smartphone with a front-facing camera and mic. To learn more you visit this page and watch our video.
What Happens After the Consultation?
Next, you'll have to watch a video explaining how our Invisalign process works. Many of our patients have a bunch of questions about the Invisalign process. We understand, and we hear you. We've made a short video explaining what you can expect from Invisalign.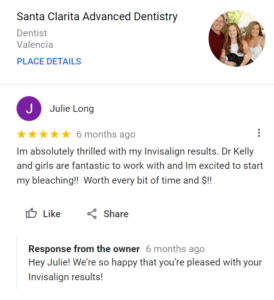 Lastly, one of the things many patients never consider is what happens after Invisalign. Well, now we have to worry about maintaining your beautiful smile. Some might even say retain your beautiful smile. Which leads us to retainers. Don't worry, naturally, we've made a video explaining retainers.
If you're in Santa Clarita or nearby and are interested in Invisalign please feel free to contact us! We're happy to answer any questions you may have.