4 Ways To Reduce Dental Anxiety
   We all get a little nervous for our visit to the dentist. Don't worry, you are not alone. It is very common to have dental anxiety. Here are some tips to reduce your stress for your next dentist trip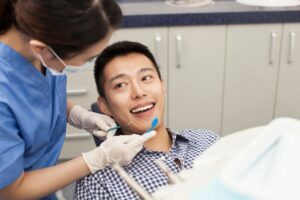 #1 To Calm Dental Anxiety Remember The Dentist Is Your Friend
That's right, were both on the same team. As our patient, we want you to feel as comfortable as possible. Providing a safe and positive atmosphere for our patients is our main goal. No matter your level of anxiety, we want our patients to feel happy and safe. Everyone's level of anxiousness is different and that is completely fine. Explain to your dentist what exactly you are nervous about and we will find the best way to care for you!
#2 Remind Yourself That Everyone Has Teeth
Every person has to go to the dentist at some point. Take a moment and realize that you are not alone. The patients in the room next to you are going through the same experience. While in the waiting room distract yourself with a book or music to ease your anxiousness. Remind yourself that you are not alone. Everyone has teeth and has gone through the same process. To learn more about your teeth and keeping them healthy check out this blog!
#3 A Positive Mind
Just imagine yourself with a brand new smile. Going to the dentist will be beneficial in the end.  By the time you leave you will realize that you were anxious for nothing. Go out and show those pearly whites. You are going to look great! If you are still anxious, we do offer sedation to help our patients feel more clam and relaxed if your dental anxiety is high. Basic breathing exercises can help ease you to a positive mindset.
#4 Keep Up With Your Dental Routine
Come in often and don't miss your appointments. This will help you be more connected to the dentist environment and more importantly, You won't fall back on your dental hygiene. It is very important to stay on top of your dental visits to prevent any issues in the future. The more you come in the easier it will get!
Dental Anxiety Take-away
We don't want anybody to feel embarrassed about being nervous for the dentist, It is completely normal to have butterflies in the stomach. Managing dental anxiety is a combination of self-talk and having a motivating mindset. Remember, we are all in this together and our job is to put you at ease and keep you looking and feeling good.
If you would like to come in, call us at (661) 259-4474 
or visit us here